Hangar Human Performance Centre - Burglar Alarm Installation - Cardiff
Health and Leisure Industry Case Study
A burglar alarm is often the last thing on the list of priorities for any start-up company. A combination of trying to keep to budget and time restraints can mean security falls by the wayside.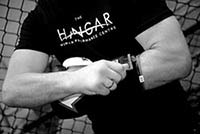 This was not the case for Faith Attwell owner and proprietor of The Hangar Human Performance Centre Penarth Rd, Cardiff. With high-value equipment and a lot of hard work and time invested in the first-class sports facility, protecting assets was top of the list.
For this premises we employed the latest in graded intruder detection that enabled full-time monitoring of the current state of the alarm and security of the building.
Coupled with a combination of physical security measures which complement the electronic security, the system can monitor in real-time any attempts made on the building. These include unsuccessful attempts at gaining access employing shock detection and other undisclosed detection measures.
Installation was completed in a single day and was implemented efficiently and neatly. The modern look of the equipment also complements the high-end look and feel of the venue. Stylish detectors were employed and placed in optimum positions for detection with attention being paid to gain maximum coverage avoiding any unnecessary cost to our client.
"full support was given on the product"
Testing of the system took place which included extensive walk testing, app testing and remote signalling. All tamper operation was tested and bell tests were conducted to ensure the complete operation was achieved. Full instruction in using the system was given at the end of the installation and full support was given on the product along with a comprehensive maintenance package.
We are also able to remotely monitor the system to make sure that the system is always fully serviceable and able to provide the security needed. We utilized remote software by Pyronix that can remotely reset the system in the case of accidental activation and also monitor the health of the panel and detectors to proactively maintain the system.
The associated monitoring application ProControl+ also allows our client to see when the alarm was armed and disarmed and by who. Further details are available from the app which gives insights into any activations that have taken place, what detectors were activated and any error codes. Failed attempts at setting the system by way of the wrong code being used are also reported by the app.
If you run a fitness facility and want to make your premises more secure please take a look at our alarm installation prices. Alternatively if your not sure what you need you can contact us for advice on the details below.
Tel: 01443 402583
Email: Rhys@Griffithssecurity.com