Burglar Alarm Systems Fully Installed Prices - South Wales
High Quality Wired and Wireless Alarm Products
Our home and business alarm systems are unparalleled in features and functionality. Installation is quick and clean and is expertly planned before fitting the alarm.
Wireless Enforcer: Smart Alarm
If your used to doing everything on your phone or are looking for the flexibility that a WiFi app enabled alarm can provide then the Enforcer panel by Pyronix is the alarm for you.
All our smart burglar alarms can be monitored and controlled directly from your smartphone or work as stand-alone systems if required. Perfect for homes, shops, business units, health and leisure facilities and anywhere where security is a priority.
Prevention of burglary is made simple with our high end solutions.
Call today to speak with a friendly professional to discuss what we can do for you and find the appropriate package.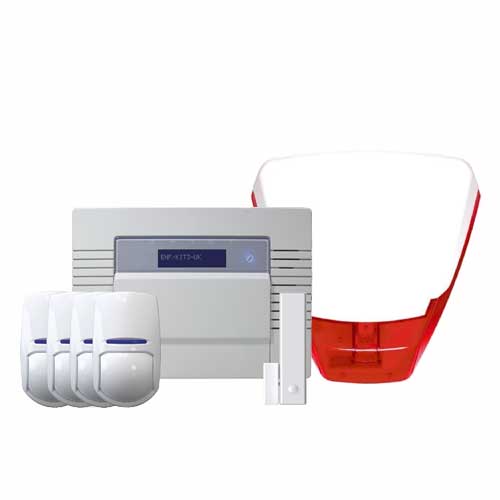 Installed - Enforcer Burglar Alarm System
Packages starting from £199 upfront payment and a month plan with external monitoring by an NSI gold alarm recieving centre.
There is also the option to buy the system outright starting at £499
If you are unsure what system is right for you please call us for a no obligation quote or contact us via the form at the bottom of this page.
Remote setting and unsetting from the mobile phone app.
Jamming detection and prevention.
Grade 2 compliant - as secure as any grade 2 wired system.
Proximity tags. (Quick setting and unsetting)
Stylish remote keypad.
Full professional installation.
Internal and external sounder with stylish bell box.
Product support and instruction on the use of all the features.
*All systems include panel, keypad and bellbox. Suitible for a small business premisis or average sized home. Larger premises or more detectors, please call us for a quote.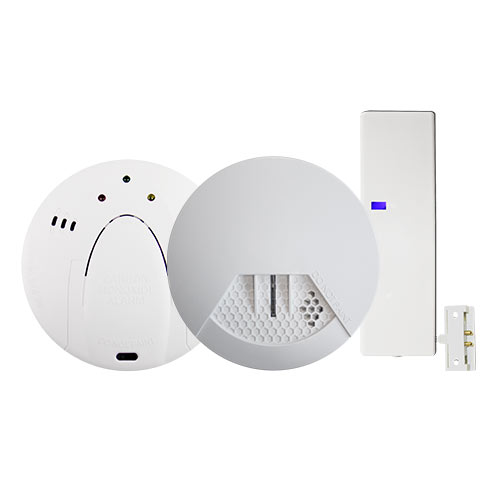 Installed - Additional Enforcer Add-Ons
The wireless Enforcer system does more than just alert you to intruders. Why not detect leaks, saving thousands in preventing water damage and protect yourself and your family against carbon monoxide. A smoke alarm can also be added to the system which will inform you even if you are not home.
Smoke detector

£129.99 inc VAT

Leak detector

£129.99 inc VAT

CO2 detector

£129.99 inc VAT

Additional bell box

£169.99 inc VAT

Additional proximity tag

£9.99 inc VAT
*Suitible for a small business premises or average sized home. Please note that smoke detectors cannot take the place of a dedicated fire alarm system, please call us for more info.
---
Upgrade an Existing Wired Alarm
What does your old bell box say to a would-be burglar? Or is your old alarm just not working and could do with replacing? A new alarm system using your existing wiring is both cost-effective and effective.
All cabling will be tested prior to any installation and rectified as needed.
Upgrade and Replacement Pricing
3 pet friendly detectors, 1 door contact, remote keypad, 100db external bell & replacement panel

£429.99 inc VAT

4 pet friendly detectors, 2 door contacts, remote keypad, 100db external bell & replacement panel

£499.99 inc VAT

Large properties catered for.

Please Call

Proximity tag

£9.99 inc VAT
These are prices for typical systems required by our customers, we will always visit to make sure the system is suitable and to answer any questions you may have.
Commercial Burglar Alarm Systems
A custom-designed, wired alarm system is more suitable for commercial premises. The Euro range of panels provides unrivalled reliability with the same communication options as the enforcer panel by use of the multiple communication modules available. These communication options include a GSM module for situations where there is no phone line available. A telephone speech dialler to call you directly upon activation and the LAN and WiFi modules which enable the app features to work with ProControl+. An assessment visit would be advisable when considering this option.
Both the wired Euro panel and the wireless Enforcer integrate seamlessly with the Hikvision range of CCTV cameras and the Pyronix range of cameras via ProControl+, the smartphone app. This enables video verification of any alarm activations, allowing you to take the appropriate action.
We also offer other panels by different manufacturers which include:
Contact us to arrange an appointment so we can design the perfect burglar alarm system for your business.